Welcome to Wyganowski Frames. Wyganowski frames is the culmination of custom frame building dating back to 1936 and the working knowledge of my three previous predecessors. All my frames utilize and reflect some aspect of each of my predecessors.
Unlike most builders whose main focus is on building frame sets, mine has been split with heavy emphasis on repairing frames. Few if any builder has a better working knowledge of frame repair as I do.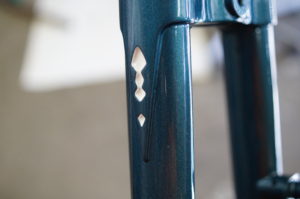 Rando fork
I build bicycles by hand to exacting standards, using methods that prevent residual stress from being built into the completed frameset. I am unique amongst builders since each of my frames must be built without residual stress to meet my minimum standard for a frame set. I consider this a standard for any quality frames and my minimum standard. The end result is a frame that will, if cared for properly, last a lifetime. Each frame receives a rust inhibiting metal prep. before the frame is coated. I am the only builder who provides such a pre paint treatment.
I build with steel and stainless steel tubes, and I was the first and only builder in Minnesota to build framesets from aerospace grade stainless steel long before Reynolds 953 and KVA tube sets were available.