Welcome to Wyganowski Frames. I am now providing additional services with my relocation to Sauk Rapids. I am adding bicycle repair services and wheel building. I offer full paint and powder coating with a high end rust inhibiting metal prep before painting or powder coating.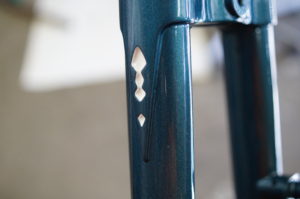 Rando fork

I have been building custom handcrafted bicycle frames since 1989 and was introduced to the processes in 1985. I do not use any production building methods common amongst most builders. All of my frame building knowledge comes directly from the custom mentality one frame tailored specifically for the individual. It also how I construct each frame not from a production building style but custom hand finished building style. I do all the work myself.
I build bicycles by hand to exacting standards, using methods that prevent residual stress from being built into the completed frameset. I am unique amongst builders since each of my frames must be built without residual stress to meet my minimum standard for a frame set. I consider this a standard for any quality frames and my minimum standard. The end result is a frame that will, if cared for properly, last a lifetime.
I build with steel and stainless steel tubes, and I was the first and only builder in Minnesota to build framesets from aerospace grade stainless steel long before Reynolds 953 and KVA tube sets were available.